Here is a recap of our last Fixathon for those who weren't there and are considering joining a future event as well as preserving a summary for creating surface area to discuss how to improve.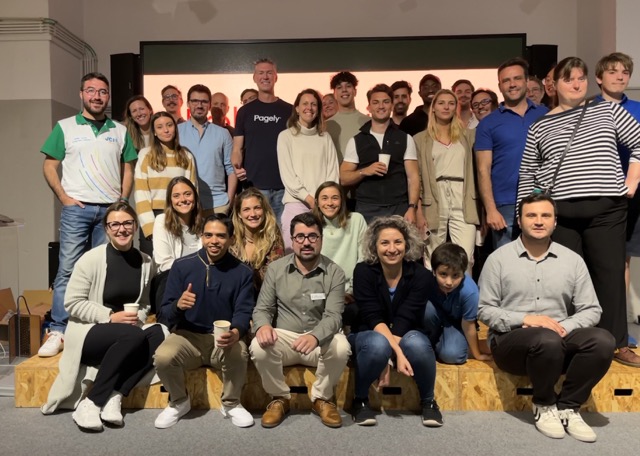 our group at the end of the Ideathon night.
I posted my journaled notes in the Discord from both events here and here for those who want to attempt to decipher my chicken scratchings to see my observations and takeaways.
This was the first time we split the Fixathon into two back-to-back Saturdays instead of the Saturday/Sunday format. We kept the designation of ideation then build days which worked well and I believe having a week in between events was an improvement. The Participants need a break after the ideation day because it's long and intense. Having the week in between for setting the table with the teams also helped us get more from the build day. I have started a doc that will serve as a master playbook for the team leaders and help them prep at each stage to get the most out of the events. This is not finished yet but should be a comprehensive map for those who want to fill in knowledge holes and prep for each stage.
Ideathon 4/15/23
42 Lisboa graciously hosted us for this event. The winning project from the event was Onesta (formerly Lift Me Up) and was founded by a core team of NovaSBE students who are passionate about addressing the mental health crisis amongst students. They're attacking this issue by developing an app to orchestrate a talk buddy program which will be volunteer-staffed by psych students and available hopefully in beta at NovaSBE at the start of the next semester.
Runners up were 2nd place, G-Rate attempting to provide a restaurant directory service focused on tracking various dimensions of sustainability and surfacing information that can help sustainability-conscious consumers make more informed purchasing decisions. G-Rate actually tied for 1st the night of the event in our first attempt at using the trading platform to determine valuation but LMU pulled away handily following the event raising a total of €310 to cover costs building and hosting the MVP of their app.
CO-IN took third place with its unique proposal to become a hub for facilitating conversations on difficult topics amongst diverse, unlikely conversation partners. The aim is to find common ground, harmony and gain exposure to different perspectives with the goal of cultivating understanding and reducing stereotypes, misconceptions and barriers.
StepUP did not receive an offer from the event but is proposing to develop a gamified app for promoting car-free cities. It will be interesting to see how their gamification model evolves based on their customer interviews.
The ideation day followed roughly the same format as our previous event (slides here):

Soon the app will enable anyone to organize a Fixathon in their area using our software for listing, promoting and running the events. If you want to host Problemattic events in your area create an account and mark the preference in your profile that you want to lead an event.
Below are some photos from the day as we moved through the various waypoints of the timeline: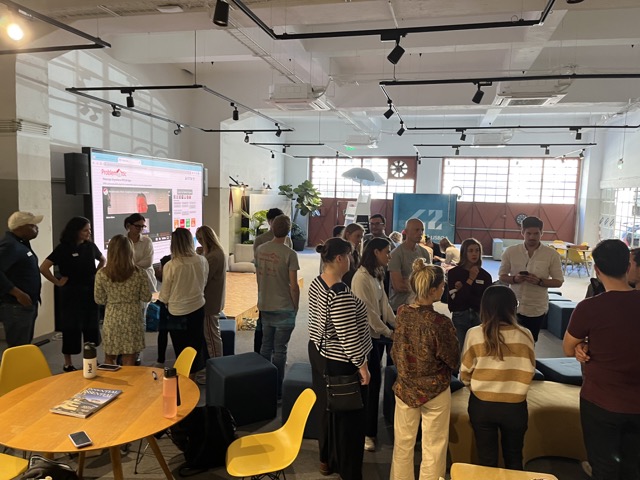 Particpants mingling and getting caffeinated during the Welcome and Icebreaker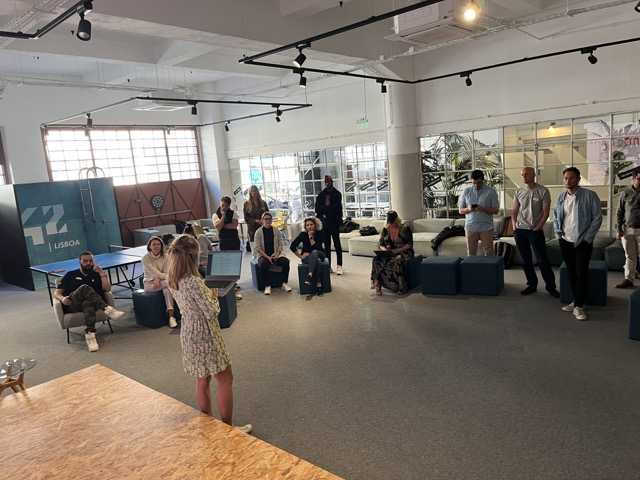 Project Pitches with Lucia explaining StepUP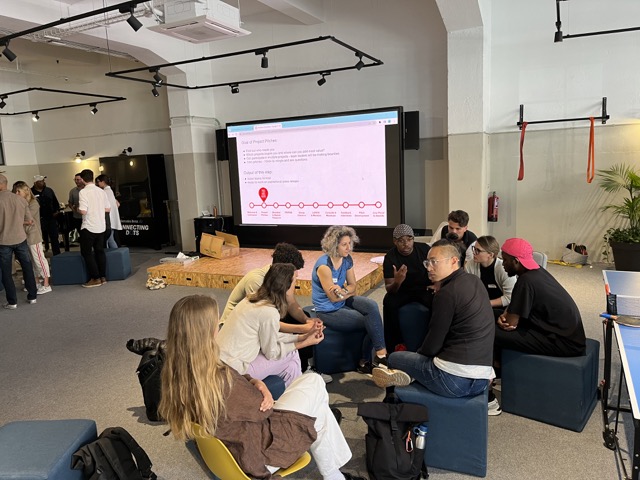 Team formation following the pitches - Brian rallying troops for CO-IN
Teams working on their aspirational PR/FAQ - Hannah leading Lift Me Up in the foreground, Lucia leading StepUp behind and way in back Jon's team for G-Rate in the cubby.
Teams conducting their market research to punch holes in their idea and unearth available alternative solutions.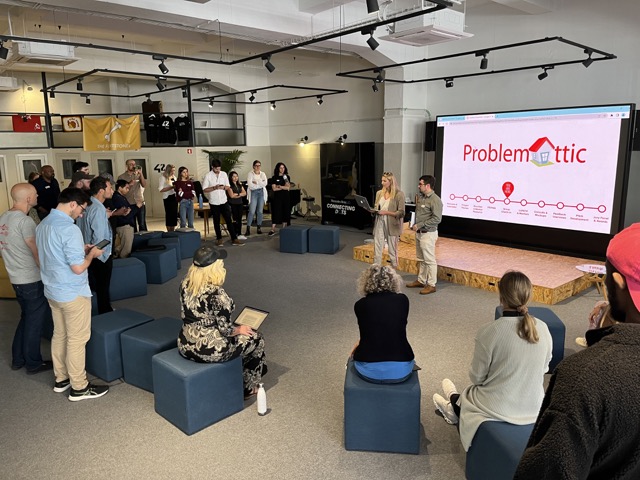 a group check-in before we break for lunch to get the wisdom of the room on what each team learned during the morning. Simone presents their findings for G-Rate.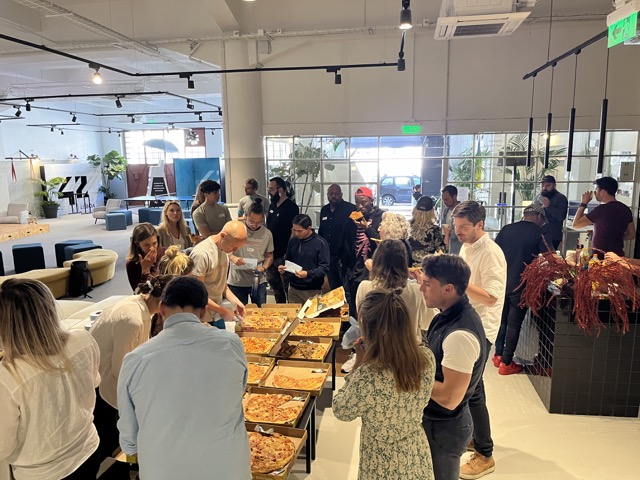 Pizza provided courtesy of Pagely (best managed WP host in the biz) and the first chance for the teams to chat with the mentors.
Teams working on their clickable mockups and meeting with the subject matter experts to get specific feedback on various aspects of their proposed project.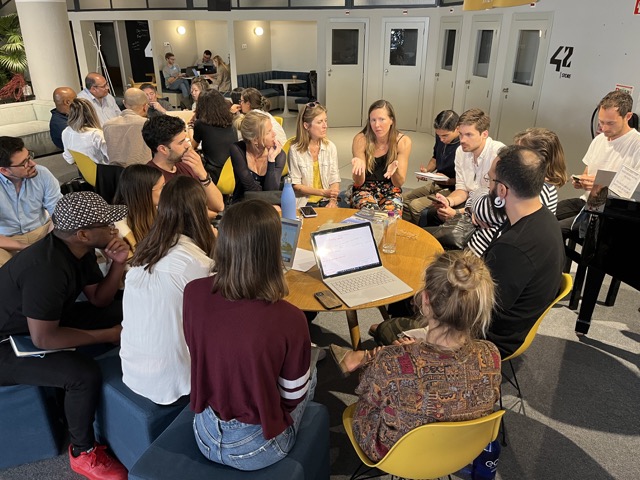 User interviews with customer feedback volunteers who donated their time to provide input to each team.
Team G-Rate hard at work honing its pitch for demo night.
The teams then each pitched a panel of six professional investors who served as judges of the event. The winner was the pitch that accepted the offer giving it the highest valuation:
That concluded the event a few of us stuck around and had a delicious Israeli dinner afterwards: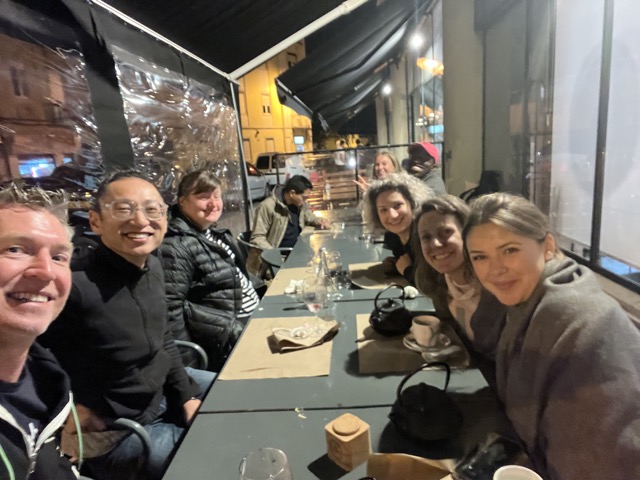 We had a week to decompress and prepare for the Buildathon event the following Saturday. I worked with Hannah and Lilian of team Lift Me Up and we developed the user stories for their proposed app during the week:

We then loaded those into their Trello board and prioritized functionality.

Lilian created a hi-fi Figma prototype and we did a meet & greet with Cameron of ProNocoders who would be the build partner for the Buildathon.
Buildathon 4/22/23
Le Wagon hosted us for this event and it was a considerably smaller group with just 11 of us. We split into two teams and a group of us refined the Trello board to tighten up the proposed app functionality and walk through the prototype to ensure we had captured everything correctly: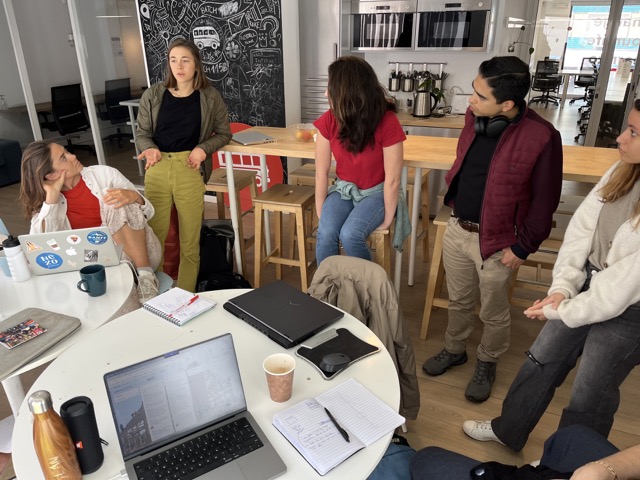 We sent a group of three into the field to "get out of the building" and talk to potential users. Tim, Dorra and Julia went to a hostel, a bus stop, the street corner and a coffee shop to gather 10 feedback interviews. They asked open-ended questions first to learn about how they currently talk through tough issues with friends and confidants and then they showed them the proposed talk buddy system to get their input. They came back and we debriefed and tweaked the user stories and prototype accordingly based on what they learned from their interviews:

I worked with Jefferson and Eli to make a rough data model and UML sequence diagram of the various stakeholder activity over time,

We had Darius Mora of Vitality Therapeutics as a mentor and had some serendipity in that his company had developed a ML system for inferring mental issues from spoken dialogue. We may be able to plug into a v2 of the app we're developing for helping provide helpful insight to the talk buddy.

We broke for lunch courtesy of Pagely:

At this point we had things to an adequate state to handoff to our remote build partner Cameron who was just coming online in Arizona. I interfaced with him and he began building out the app per the prototype and user stories. This timezone offset worked in our favor as we were able to get in a full day in Lisbon and then hand things over to Cameron in AZ. We did not ultimately get it to the grail of a launchable MVP in a day but Cameron knocked out an impressive chunk of the user stories as the solo dev on the project. The scheduling Bubble plugin we tried proved to be insufficient for our needs so we're now investigating the build vs. buy decision. With €225 budget left and the centrality of this functionality to the app we're leaning towards building this out ourselves which will take more time but yield likely a better overall outcome as we can better control the experience.
This is probably a good enough summary of the two events. I'm working on building out the master playbook resource for team leaders I linked in the beginning as a one-stop-shop index of all the tutorials and guides which will be helpful for teams.
We had a separate parallel team working in Arizona with Tonya of ProNocoders working with Jeff on developing the Message Anywhere app. What they were able to pull off in a few days in Bubble is truly impressive: a completely integrated SMS → Web → SMS interaction hub for the Creighton Community constituents facing food scarcity and digital divide issues. The Bubble application Tonya created is able to be used by multiple agents with various ways to tag and categories the message threads. You can see an overview of it via this Loom video below:
I'll devote another post to my learnings and takeaways from both of these events. I journaled 8 full pages of observations and ideas for where we go from here. I'm really pleased with how far both the software platform and the event format has come. The trading platform worked under fire in delivering a market-driven method for picking the winner by project valuation at the end of Day 0. And the format for the Ideathon is both fun and effective. Many more thoughts but don't listen to me. Listen to the participants who went through it:
If you want to get involved before the next Fixathon there are a couple of ways you can. Starting tomorrow we're trying out a weekly coworking session in Lisbon that's open to the public. If you're outside of Lisbon you can also browse the project library filtering for projects which need your skillset and can work on any open bounties that exist.
Whatever your interest be sure to create an account on the site and fill out your skills and location so you can get notified as opportunities matching your criteria arise. I'll post the April monthly recap later this week with all the various progress and learnings summarized there.
Lastly, this Fixathon is dedicated in loving memory to my godfather Ted Williams who passed away last month from Leukemia. He worked 40 years in the mental health space serving the homeless and mentally ill of Arizona running both the AZ Department of Health & Human Services as well as founding and chairing the Arizona Foundation for Behavioral Health. Below is the 1min clip of his that I played at the convocation of the Ideathon with him talking about the role of community service. Ted embodied the values of these events and this entire movement. You can find the rest of Ted's episode here. I like to think it's no coincidence that the team that won was a mental health support system for students. I love you always Ted.